Suttyo introduces himself
I am Péter Kondás, the creator of the Suttyo comics. On this page I will describe all the important things about Suttyo comics.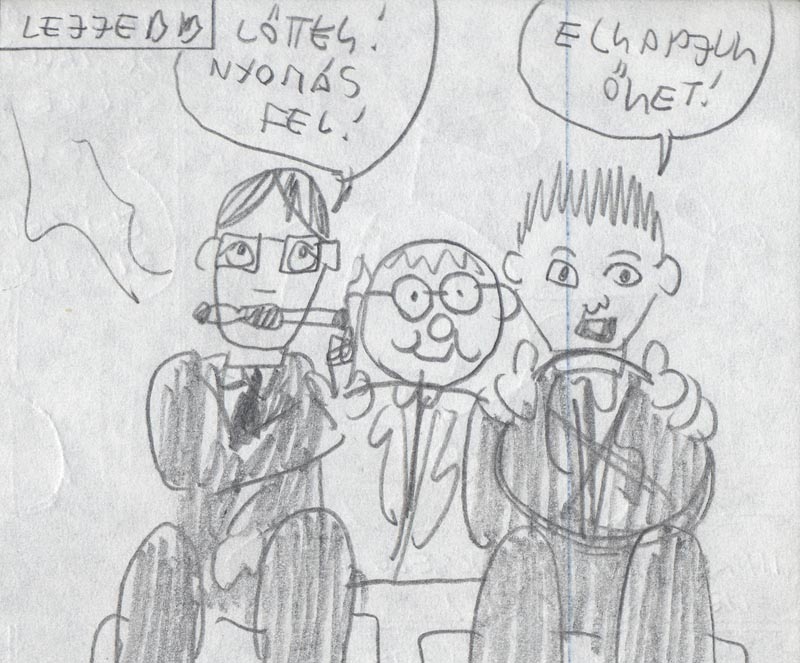 Who is Suttyo for?
Several people asked that who is Suttyo for? The characters are cute, people would think Suttyo is to children. Because it touches on topics that are only the larger ones understand, so it is rather to them. I'm usually compared Suttyo to The Simpsons, because they are cute, too, and there is the PEGI rating is . When the nudity is appear on a Suttyo comic the PEGI rating is .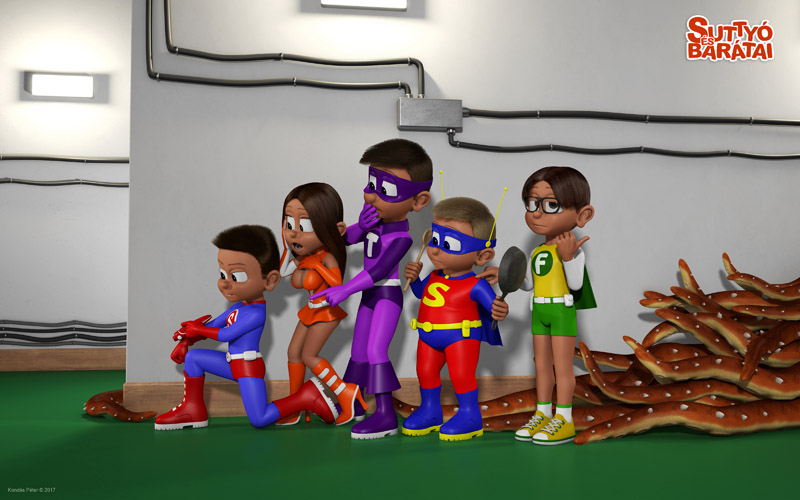 What's about the Suttyo?
The main story is played nowadays. Suttyo lives with his friends in a flat and I've written every issues that happens with them. Like a regular sitcom, for example The Big Bang Theory, the Friends or the Married With Children. Of course I put Suttyo's gladly in a different environment or in another time too. There is an archeologist story, there is pirates story, and there are few fantasy story. I wrote few movie parody, too: X-FIles, Matrix, Star Wars, Stargate, Robocop. From the Robocop I made a RoboSuttyo and a RoboSondor story. True, both are just one page out long .
The story of Suttyo
The beginnings (1993-1996)
I made a comic book series in the middle school. This has been the Suttyo. This comic book was brought to life by the comic war in Varga Márton high school.
In fact, Suttyo was a response to Sanyi's comics. His comics was born of my first comic book. My first comic series was MR DJ The Best. I made six MR DJ comics between May 1992 and December 1994. It was not about a DJ as we could think of his title, but a secret agent whose figure was modeled on my classmate Józsi. But this is another story ...
Suttyo was also modeled on a classmate, Tamás. Suttyo had a simple artwork, the characters always swearing, always dying in two main characters and it was good humor. Some people cite it. It looked like South Park. Nine comic books were produced. These stories have been told differently. Most of the booklets had several stories. Here you can see what stories were in them.
The tenth Suttyo (2003)
I didn't draw new stories after school. Then years later (around 2003) comes to my mind a new "Suttyo" poet, then another, then another one. Suttyo almost talked to me. Finally, a lot of ideas came from a story that made it another comic book. This is a fictitious fantasy in a Middlierth. This was the ten-year-old comic book, moreover ten years after the first comic book I drew it. Doudle celebration was celebrated on the whole World! Then there came a lot of ideas, I did not make comics of these ideas, but I wrote them. Thus, over two dozen longer or shorter Suttyós stories came together over the years. But in the absence of time, no comic book was made.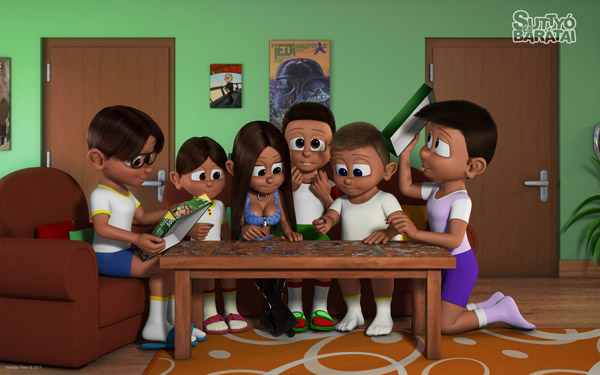 The digital Suttyo (from about 2006)
On a nice day I decided to share all of these stories with all the world. I decided on the comic book again. I've improved the style of the characters, I've left the curses and the heroes will not die in every part. I've become acquainted with 3D graphic and I really do love it! My comic books are going to be made by 3D.
Suttyo is also represented on the web with this web site, where you can always get the latest news and download many backgrounds from the wallpapers site.
The crowdfunding (2017. September)
Since making a comic book is expensive, so I thought I needed some (financial) help. Fortunately, crowdfunding is a widespread form of support, so I have decided. The both big page is the Kickstarter and the Indiegogo. Unfortunately, on Kickstarter, it is not possible to launch a campaign from Hungary (at least I could not have been trying to do this). So I decided the Indiegogo. The advantage of Indiegogo is still (in a sense disadvantageous) that if the desired amount does not come, I will get the money, of course, only if I choose this option.
After long preparation, I finally launched the campaign. Finally, it was not possible to collect the entire amount, but the English edition was available to the community, and I would like to thank you for this help.
The Suttyo and Friends is the first comic book in Hungary with 3D graphics! So Suttyo is in the Hungarian Comic book history!
Suttyo's published Comics
The first Suttyo story's premiere was at the 14. Budapest International Comic Festival (2018. May 13.). This story consists of two parts booklet. Furthermore I made a little booklet to this occasion.
A little later was done the englsih version for the I. Budapest Park Comic Market (2018. June 10.). The first boolet completely equal, but the second was has few little differnts. The second's book cover different, too.
After a lot of feedback, I decided I must to make the hildren safe version of Suttyo 2. This means I leave out of nudity. I have completely replaced 9 pages. This booklet also includes scenes that were previously missing due of booklet lenght. The length of the comic book remained 36 pages. This comic book is the Suttyó 2.5.
I published the Suttyo 4! in 2020 September! This is a first part of a two parts story of Suttyo's date.